GAM Fall Meeting
11/1/2023 - 11/3/2023
Description
GAM's 2023 Fall Meeting will be held November 1-3 at Mitsubishi Power Americas at 1000 Pine Meadow Drive, Pooler, GA. RSVP's are due no later than

Friday, October 6

th

, so please register now to reserve your hotel accommodations. Registration information is provided below.
Fill out the registration and credit card authorization form to confirm your attendance.
Please note that as part of GAM's transformation, we are converting this meeting from its traditional "board only" format to one that invites all members to participate, as well as key community stakeholders. We are confident this will provide a more valuable member experience.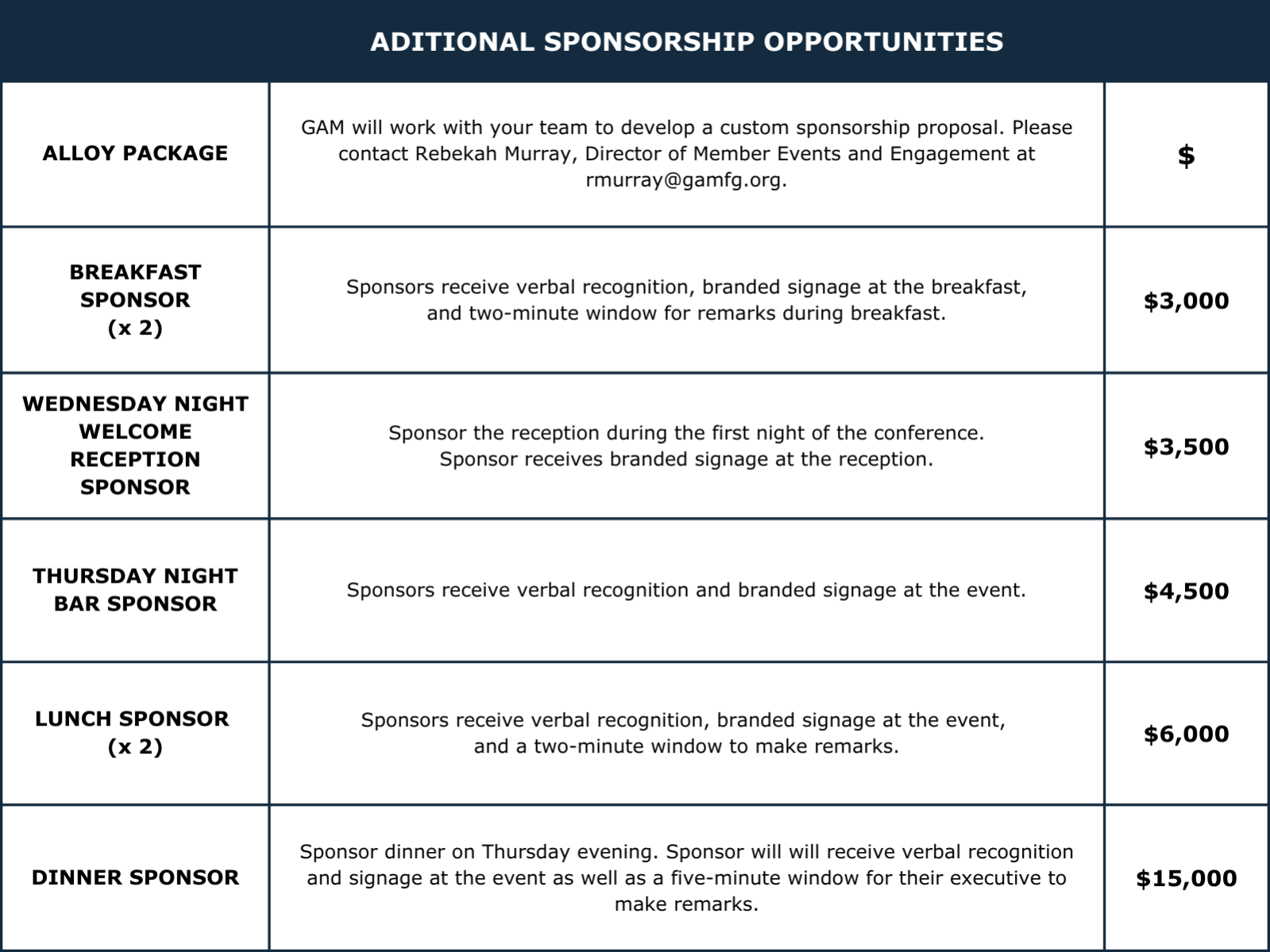 While some aspects of the agenda are still being finalized, the GAM Fall Meeting will include the following:
Wednesday, Nov 1 
5:00pm Welcome & Registration
6:00am Breakfast at Hyatt Regency
Mitsubishi Power Americas
8:00am GAM and MEF Board Meeting
10:45am Workforce Update: Stephanie Scearce, GAM Director, Workforce Development
Guest Speaker: Department of Labor Commissioner, Bruce Thompson
12:00pm Lunch
1:00pm Tour of Savannah Technical College Industrial & Welding Program
Savannah Technical College serves Coastal Georgia with quality, market-driven technical education with campus locations in Chatham,

Effingham and Liberty Counties. Serving more than 10,000 credit and non-credit students annually, Savannah Tech offers nearly 150 different instructional programs. The College serves as an economic and community development partner for the region, offering corporate and customized training and assessment programs for business and industry.
3:15pm Tour of Gulfstream Aerospace
Gulfstream designs, develops, manufactures, markets, and services

business jet

aircraft. Gulfstream is a member of GAM.
7:00pm Board & Members Dinner
Friday, Nov 3
6:00am Breakfast at Hyatt Regency
Mitsubishi Power Americas
8:00am Business Session Begins
8:15am Preview of the 2024 Legislative Session
9:00am Cracking the Code on Supply Chain, Transportation & Logistics Issues
ACTIV is an innovator in digital supply chain technology

, and EFW has expertise in transportation and logistics solutions for air, rail and truck.
10:15am Changing the Image of Manufacturing: How Do We Tell Our New Story?
11:15am Outlook on the GA & US Economies
12:15pm Lunch
1:30pm Tour of Mitsubishi Power Americas
Mitsubishi Power Americas designs, manufactures, builds, services, and optimizes power systems worldwide. Its power generation solutions include natural gas, steam, and aero-derivative turbines; power trains and power islands; geothermal systems; PV solar project development; environmental controls; and services. The company is also at the forefront of battery energy storage systems. Mitsubishi is a member of GAM.
4:00pm Meeting Concludes
Mitsubishi Power Americas
1000 Pine Meadow Drive



Pooler

,

GA

United States